A lot has changed since I toured colleges as a high school senior in 1980. Today's seniors are solicited on social. I'm not sure I saw a piece of targeted direct mail trying to get my top 20 percent, B+ average on a campus. But I dutifully compiled a list and visited half a dozen schools in the Midwest and Northeast. I landed in the Twin Cities because of a college visit, and stayed. 
Almost 40 years later, I was back on campus over the last year with both my youngest child and a couple of nephews, all ready to launch into adulthood with a very expensive four-year sojourn in higher ed. The common denominator was that a student-led college tour, not appreciably different than the one I took in 1980, proved decisive in their decision to apply or enroll. 
Only a third of students visit prospective colleges, but those who do are far more likely to enroll, so the on-campus experience is key. Yet even as higher ed has evolved into a business steeped in big data, the campus tour remains a quirky, idiosyncratic relic of another era, where teenagers say and do things that may or may not be representative of the college and leave impressions that a school may or may not want to make. A couple anecdotes from my "year" on campus: 
It's late August and we're visiting a Midwestern school in an isolated location with a large endowment and strong reputation. My daughter has had positive interactions with the admissions director who is trying to arrange a call with a professor who specializes in an area of study in which she is interested. The school is quiet on the Friday night we arrive, the town surprisingly small. 
The next day we sit for an admissions session. There are the usual tropes, dinners on a professor's porch, incredible study abroad possibilities, lots of talk about how much money the school has for stipends for internships and independent study. At tour time, parents and kids separate into groups. My wife and I head out with an affable theater major from Oregon who plans to go to law school. We're left feeling positive. 
When we reunite with our kid after the tour, she declines the provided lunch in the student center. "Let's go," she says. "Are you sure?" I ask. "You don't want to stay a bit longer, talk to students?" "No, I'm done." 
On the way home, my kid says that her tour guide spent a substantial amount of time explaining their gender dysphoria and how the college paid for materials for them to transition to non-binary status. It was designed to spread an air of inclusivity, but left the impression this is a school for kids struggling with identity, not a place where jovial teens hang out and share a laugh.
"Tours are a very high-stakes experience," explains Angel Pérez, CEO of NACAC, the National Association of College Admissions Counseling, who has held admissions leadership positions in colleges across the U.S. 
How high? The average selective private college spends several thousand dollars recruiting each student who enrolls. 
This precarious nature is at the center of the tour's relevance. "The tour and campus experience you have little control over," explains Lorne Robinson, retired dean of admissions at Macalester College, "the perceived value to students is exactly that." 
It's a few months later, and I'm touring a Minnesota liberal arts college I once attended, with my brother and nephew. He has been admitted and it's probably his first choice. They live in Texas, and I persuade them not to visit in January, so they come in March. The day is damp and cloudy, in the 20s. It could be worse, I think. 
The admissions spiel takes place in a modest garden-level space. There are minimal bells and whistles—no videos with energizing music—but the session is professional and informative. The tour is good as well, the student guide barely wearing a coat, showcasing typical Minnesota hardiness. 
Pronouns are front and center at this school, which seems to turn my nephew off. He has nothing in common with the tour guide, a young individual who goes by "they/them" and is on the introverted side. After we're done, I ask if my kin would like to walk around the neighborhood, meet more students in the student center, etc. They've seen all they need, they tell me. 
Objectively, this school ticks all the boxes for my nephew and I intuit he would be happy here. He is unsure. The guides and few students he glimpsed seemed eccentric, and he wonders if it's a school where an average kid like him would feel at home. (Ultimately, he chooses a school in Colorado that he visited in far better weather, where the tour guide was perhaps more like him.)
Driving them to the airport a couple days later, I wondered why the multibillion dollar business of higher ed still relies on the same tour I took in 1980 as the culmination of all that expensive outreach. In four decades, has higher ed not figured out a better way to connect a prospective student with a representative experience?
"College admissions is business, it's just that simple." —Mary Pat Blascziek, associate director of
admissions, University of St. Thomas

Read more from this issue
Big dollars, high stakes
Let's start with some data. Approximately 35 percent of prospective students tour a college or university; these students visit between five and nine on average, according to data from Ruffalo Noel Levitz (RNL), a consulting firm that helps colleges manage enrollment. "Getting a kid to campus is the goal," notes Greg O'Brien, RNL's chief growth officer, because a visit is the best way to seal the deal.
RNL conducts an annual survey of colleges to gauge spending on student recruitment. Its 2022 data shows spending up 32 percent from 2020 among the cohort of private colleges that responded—a median figure of $2,795 per student. But no elite or highly selective colleges are included in RNL's data. Most of the experts consulted for this story suggest that a representative sample of selective private colleges would show recruitment costs of $4,000 to $5,000 per student. 
For a freshman class of 500 students, that totals roughly $2.5 million, so when a high schooler hits "flush" on a college after a campus visit, it's costly. 
But not every college cares. "The tour matters for schools that are not as advantaged, in difficult locations, with lower enrollments," says Jay Benanav, founder of College Inside Track, a St. Paul-based college counseling firm. 
In simplest terms, "it matters for any school with an admit rate of 25 percent or higher," says William Shain, a private college counselor based in Maine, who previously ran admissions at Macalester College, Vanderbilt University, and Bowdoin College. Carleton College in Northfield is the only Minnesota private or public undergrad institution with an admit rate under 25 percent. 
Schools with admit rates below 25 percent can afford to lose students to rainy days or quirky guides because they see more qualified applicants than they could ever hope to admit. 
(A note about admit rates: They are plunging across the board as test-optional policies drive up application volumes in higher ed.)
Schools like Carleton are doubly advantaged. "If a student is going to choose a national liberal arts college, they want to choose a place that's famous," says Phil Trout, college counselor for Minnetonka High School. "The sad fact is great schools like Ohio Wesleyan, Kalamazoo College, Knox College, and Whitman College are fighting for every student they get. Those are all places that have to spend considerable attention and money on their tour program." 
The shrinking
 

student body

College enrollment has declined in the pandemic, as families faced the prospect of spending $50,000-plus a year for their 19-year-old to matriculate from their bedroom. It's not yet clear if those numbers will snap back, says Chris George, dean of admissions at St. Olaf College in Northfield. 

But the big factor that's keeping enrollment VPs up at night is demographics. In a couple years, the number of college-age kids will begin to contract for at least a decade, a result of the baby bust tied to the 2008 recession, among other factors. 

A recent Star Tribune analysis noted that Minnesota undergraduate enrollment has plunged by a third. 

"All of us in higher ed are concerned about changing high school demographics," says George. The Upper Midwest will see a decline beginning in 2026. The gap is particularly stark among young men, says Benanav: For example, "we're seeing an explosion in diagnosed ADHD in boys who are increasingly opting out of college."

"Schools are looking at the next 10 years and saying, 'Oh my God,' Benanav adds. "How does Augsburg or Hamline attract students?" 

These alarm bells are ringing mostly at the schools that already find it challenging to fill the freshman class. "Schools people read about in the paper, schools the upper class wants—they are not worried," says Shain. 
College is a business
If all this talk of admissions rates, recruiting costs, and consultants has tarnished an ivy-covered memory, well, college has changed. 
"College admissions is business, it's just that simple," says Mary Pat Blascziek, associate director of admissions at the University of St. Thomas (UST). Blascziek is in charge of the on-campus visit experience at UST, a position that didn't exist a generation ago. 
The college-as-business phenomenon dates back to the advent of ranking higher ed institutions by publications like U.S. News & World Report. "U.S. News caused admissions to develop a business function," says Shain, "and about 10 years ago it became all business." 
For colleges, it's about maximizing tuition income while maintaining high rankings, driven by standardized test scores and high school GPAs. 
Consultants provide "lists of kids with high PSAT scores and their financial data," says Robinson. "They help you identify students who can pay. [Consultants] will tell you who $10,000 will motivate to enroll. Merit aid often has nothing to do with merit." 
Robinson offers an example: "Two kids with a 31 ACT [score], one can pay full [tuition] and one can't. You will be encouraged by leadership to admit the kid that can pay. The science is how much you have to offer them to choose Tulane over Georgetown." 
Consultants combine academic and financial data for schools and also help schools choose among small cohorts of students. It's not uncommon, says O'Brien, for colleges to send data from applications to consultants for guidance on whom to admit—Sally, Joe, or Denise. 
"They know your income by your zip code and if you might be a full-pay student," says Benanav. "It's extremely sophisticated." 
But the process begins earlier. "You have thousands of prospective students. How do you find the high academic performers and how do you communicate with them?" asks O'Brien. "Direct mail and guidebooks don't work; kids get mad about the loss of trees. How do you get harder-to-attract students to campus? We target specific students with specific tools, building out campaigns." 
"Colleges know how critically important the tour experience is. The whims of a 17-year-old determine my success professionally." —Eric Staab, vice president for admissions and financial aid, Lewis & Clark College, Portland, Oregon
Consultants are becoming essential because it's become more difficult to get the attention of students, says
St. Olaf's George. "We're often not sure we've effectively reached them." 
The tools of the trade are changing as well. "SAT/ACT [test companies] are the largest sellers of data. But 35 percent [of students] don't take tests now," says O'Brien. "So we look to Instagram, Facebook, TikTok. You can target audiences there based on academic achievement and interests."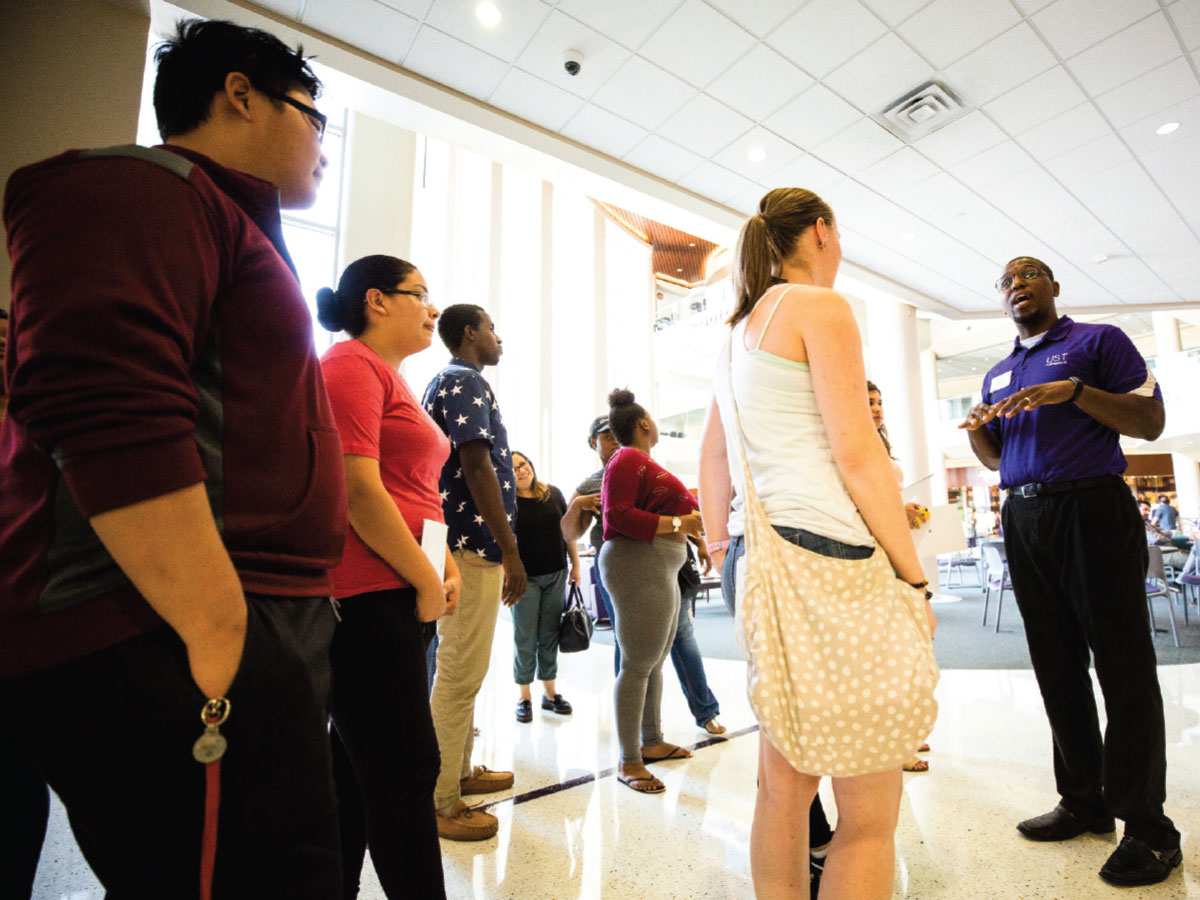 One size doesn't fit all
Two 2022 clients of College Inside Track agreed to speak to TCB about their experience visiting schools. 
Randi Fogel of Minneapolis is a mom with three kids; one attends Goucher College in Maryland, one attends Hamline University in St. Paul, and soon, one will attend the University of Missouri. "The touring was always tortuous," she says. "Every time, I left a campus feeling like I really knew nothing." 
In Fogel's experience, "tour guides are the nerds, and they leave your kids asking 'Is it going to be fun here? There's got to be more than this …' They are looking for a sense of what it's like to live there." 
Finn McCormick of St. Paul took a college-visit trip to the Northeast. He says a gloomy day, in part, turned him off Dartmouth, while a good tour caused Vermont to rise on his list. In the end, to his surprise, he decided to attend the University of Minnesota. A runner, the U recruited McCormick, who took a specialized tour and participated in a day of events. "It was personalized," McCormick recalls. "I thought, 'They really want me.' " 
Fixing the tour
A third of students who enroll in college will transfer before the end of their undergrad career. That number is lower at the small private colleges that are the subject of this article, but the number is still unacceptably high, and getting more students to campus and providing them with a representative experience is key to improving it. "At every school the highest conversion rate is from visits," notes NACAC's Pérez. 
The question is what are high schoolers looking for? "You have a student who is choosing on proximity of parking to the dorms and others who are choosing based on benchmarks of diversity," says Minnetonka's Trout. But others think it's simpler than that. "Students are looking for people like them," says Eric Staab, vice president for admissions and financial aid at Lewis & Clark College in Portland, Oregon. "Kids extrapolate it so that the guide embodies the school. 
"Colleges know how critically important the tour experience is. The whims of a 17-year-old determine my success professionally." Staab chuckles, relating two anecdotes about the precariousness of the college search. His wife toured Macalester as a high schooler. "The guide was wearing tails and a top hat, and she immediately decided it was not for her." Staab's son went to a college fair and decided he was interested in Butler University in Indiana solely because "that was the only college rep who asked any questions about him." 
Insiders have a number of suggestions for colleges hoping to improve their tour experience. 
Pay the guides. "Making it paid means you can require training and improve delivery,"
says Staab.
Resume on-campus experiences that were cut at the onset of the pandemic. "The experience can't entirely fall on a guide," UST's Blascziek says. "It's about trying to get many [faces] in front of a guest rather than just one."

 

Offer students as customized an experience as possible. "For us, the secret sauce has been training students to know who they've got on tour and help them feel how it feels to be on campus," says Blascziek. UST is a larger school with more resources; this guideline is harder for smaller colleges. "It is ongoing work," says St. Olaf's George. "We know that match is what the student is seeking."

 
Minnetonka's Trout notes that High Point University in North Carolina limits tours to available parking spaces and has a guest's name on their assigned space. "It makes a huge impact on people," he says.
The kids know
 

(or do they?)

There's another take, of course, a take that says that all this ruminating about college tours is trying too hard by half. 

"Humans are pretty bad generally at predicting what's right for them, and teenagers are especially bad," says Benanav. "I don't think a teenager can make a rational choice from a tour, so why optimize it?"

Or perhaps they know more than adults could ever understand. 

"When a student visits a campus, they have a strong reaction," says Sara Kyle, director of college counseling at The Blake School in Minneapolis. "They know whether they do or don't like the school, though they typically don't have the words to satisfy adults. But they look at every student they see and ask themselves, 'Can I see myself being friends with those people?'" 
---
Avoiding the Visit Veto
Visits that go awry over a mismatched tour guide are wastes of time and money (though not all "failed" college visits result from misimpressions, of course), say experts. Here are some suggestions to avoid such experiences. 
Don't tour more than one school per day. Impressions become confused, memories become muddled.

Don't tour during holiday or break periods, when availability of guides and facilities is limited. It might be easier to visit in summer, but many small colleges are deserted then.

Tour on weekdays, when students are about. Most of what your teen will be doing is looking at students.

Make time to visit a class, meet with faculty, or hang out. The more time spent and people encountered, the greater chance a visit will be representative.

 

Try to make a personal contact in the admissions office before arrival. The more the school knows about your student in advance, the better chance a visit can be tailored to their interests.