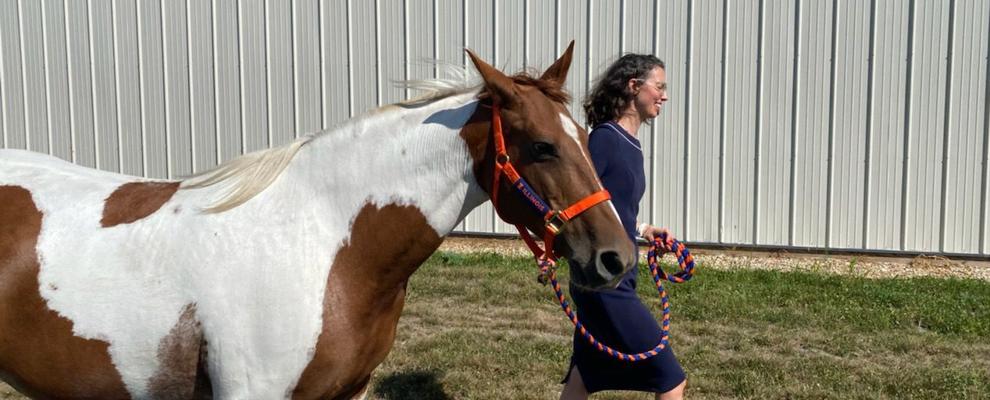 If DR. ASHLEY MITEK wanted to show off the best of campus to a non-Illini, the tour wouldn't start on the Quad, in front of Alma's outstretched arms or at any of the other familiar legendary landmarks.
Her first stop: the nurse's station in the Veterinary Teaching Hospital's state-of-the-art operating rooms.
From there, Mitek says, "you can watch some of the best and brightest anesthesiologists, surgeons, cardiologists, nurses and students in the country help all kinds of patients. On a good day, you can watch brain surgery, a pacemaker implantation into a beating heart and a leg be screwed back together after a bad fracture.
"It's veterinary medicine at its finest and there isn't a better view on campus."
Mitek not only works there, as a UI teaching assistant professor and anesthesiologist, she also learned there, having earned her DVM in veterinary medicine 10 years ago.
She took us on a guided, virtual tour of some of her favorite spots in this week's edition of My Campus.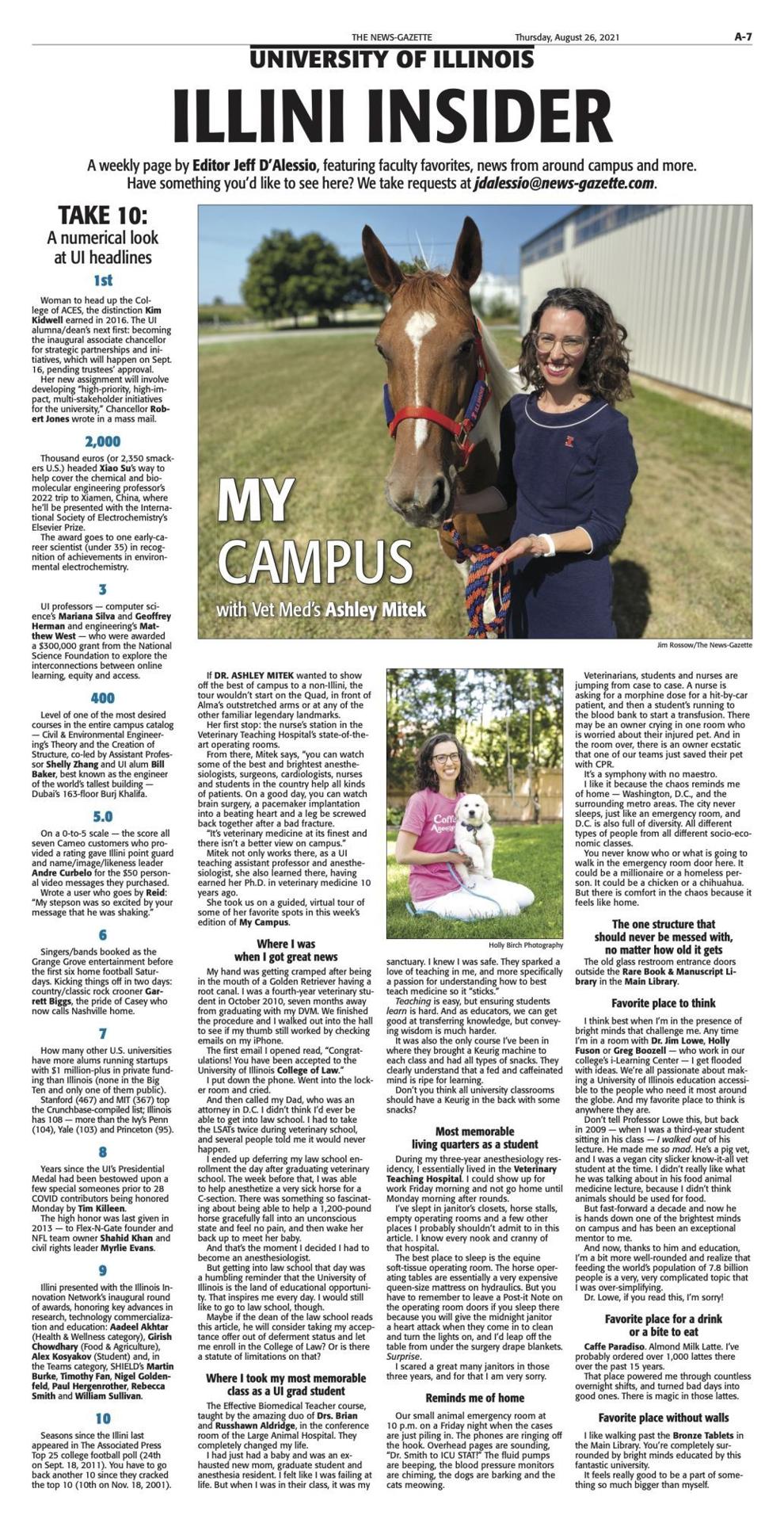 Where I was when I got great news
My hand was getting cramped after being in the mouth of a Golden Retriever having a root canal. I was a fourth-year veterinary student in October 2010, seven months away from graduating with my DVM. We finished the procedure and I walked out into the hall to see if my thumb still worked by checking emails on my iPhone.
The first email I opened read, "Congratulations! You have been accepted to the University of Illinois College of Law."
I put down the phone. Went into the locker room and cried.
And then called my Dad, who was an attorney in D.C. I didn't think I'd ever be able to get into law school. I had to take the LSATs twice during veterinary school, and several people told me it would never happen.
I ended up deferring my law school enrollment the day after graduating veterinary school. The week before that, I was able to help anesthetize a very sick horse for a C-section. There was something so fascinating about being able to help a 1,200-pound horse gracefully fall into an unconscious state and feel no pain, and then wake her back up to meet her baby.
And that's the moment I decided I had to become an anesthesiologist.
But getting into law school that day was a humbling reminder that the University of Illinois is the land of educational opportunity. That inspires me every day. I would still like to go to law school, though.
Maybe if the dean of the law school reads this article, he will consider taking my acceptance offer out of deferment status and let me enroll in the College of Law? Or is there a statute of limitations on that?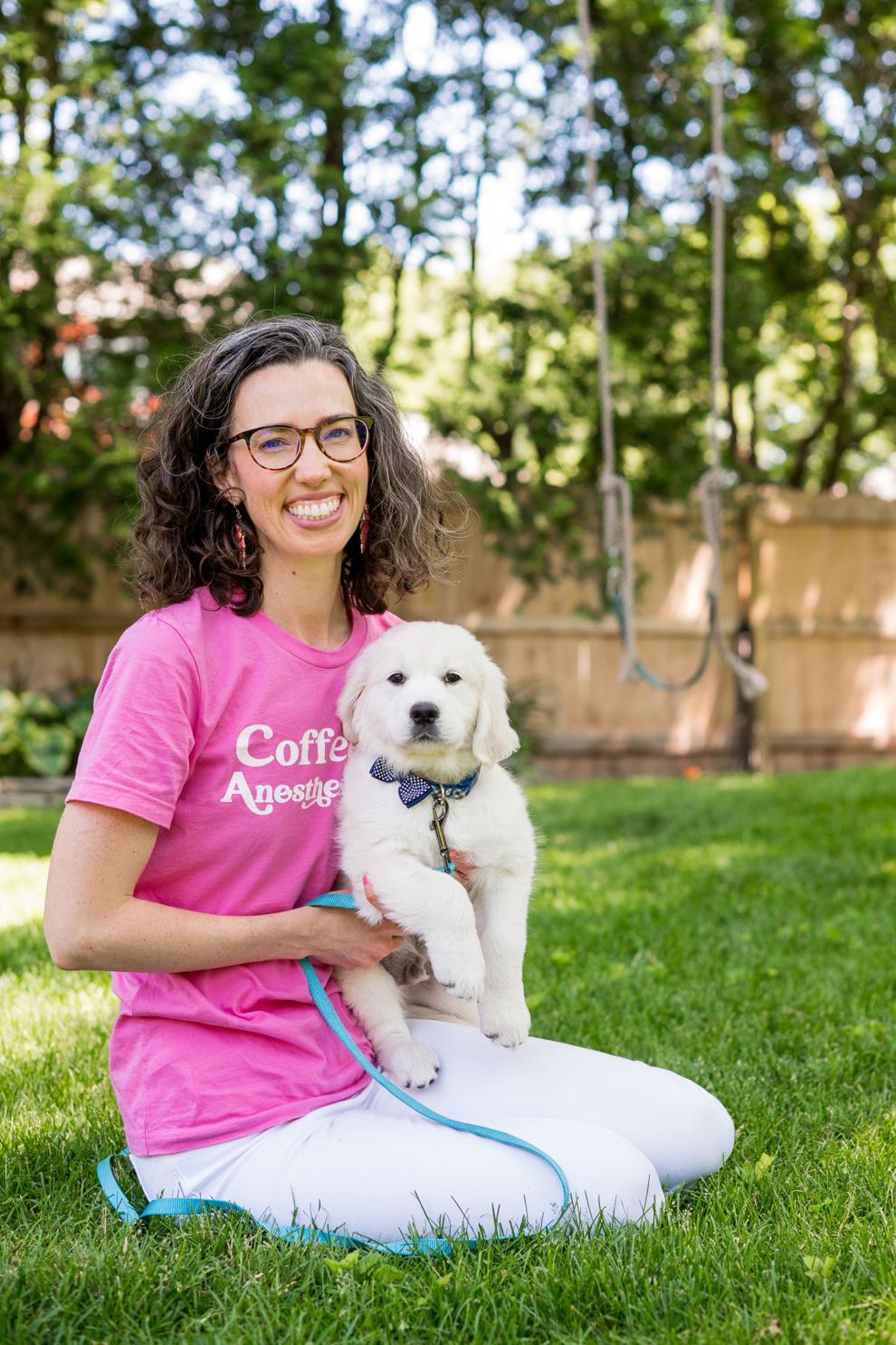 Where I took my most memorable class as a UI grad student
The Effective Biomedical Teacher course, taught by the amazing duo of Drs. Brian and Russhawn Aldridge, in the conference room of the Large Animal Hospital. They completely changed my life.
I had just had a baby and was an exhausted new mom, graduate student and anesthesia resident. I felt like I was failing at life. But when I was in their class, it was my sanctuary. I knew I was safe. They sparked a love of teaching in me, and more specifically a passion for understanding how to best teach medicine so it "sticks."
Teaching is easy, but ensuring students learn is hard. And as educators, we can get good at transferring knowledge, but conveying wisdom is much harder.
It was also the only course I've been in where they brought a Keurig machine to each class and had all types of snacks. They clearly understand that a fed and caffeinated mind is ripe for learning.
Don't you think all university classrooms should have a Keurig in the back with some snacks?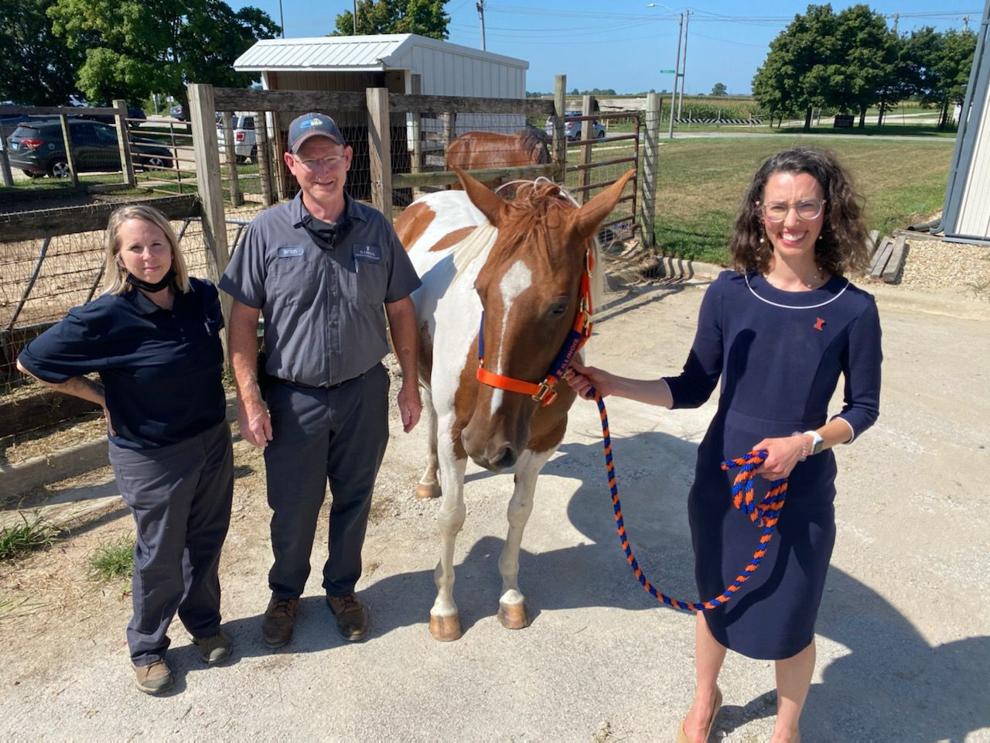 Most memorable living quarters as a student
During my three-year anesthesiology residency, I essentially lived in the Veterinary Teaching Hospital. I could show up for work Friday morning and not go home until Monday morning after rounds.
I've slept in janitor's closets, horse stalls, empty operating rooms and a few other places I probably shouldn't admit to in this article. I know every nook and cranny of that hospital.
The best place to sleep is the equine soft-tissue operating room. The horse operating tables are essentially a very expensive queen-size mattress on hydraulics. But you have to remember to leave a Post-it Note on the operating room doors if you sleep there because you will give the midnight janitor a heart attack when they come in to clean and turn the lights on, and I'd leap off the table from under the surgery drape blankets. Surprise.
I scared a great many janitors in those three years, and for that I am very sorry.
Reminds me of home
Our small animal emergency room at 10 p.m. on a Friday night when the cases are just piling in. The phones are ringing off the hook. Overhead pages are sounding, "Dr. Smith to ICU STAT!" The fluid pumps are beeping, the blood pressure monitors are chiming, the dogs are barking and the cats meowing.
Veterinarians, students and nurses are jumping from case to case. A nurse is asking for a morphine dose for a hit-by-car patient, and then a student's running to the blood bank to start a transfusion. There may be an owner crying in one room who is worried about their injured pet. And in the room over, there is an owner ecstatic that one of our teams just saved their pet with CPR.
It's a symphony with no maestro.
I like it because the chaos reminds me of home — Washington, D.C., and the surrounding metro areas. The city never sleeps, just like an emergency room, and D.C. is also full of diversity. All different types of people from all different socio-economic classes.
You never know who or what is going to walk in the emergency room door here. It could be a millionaire or a homeless person. It could be a chicken or a chihuahua. But there is comfort in the chaos because it feels like home.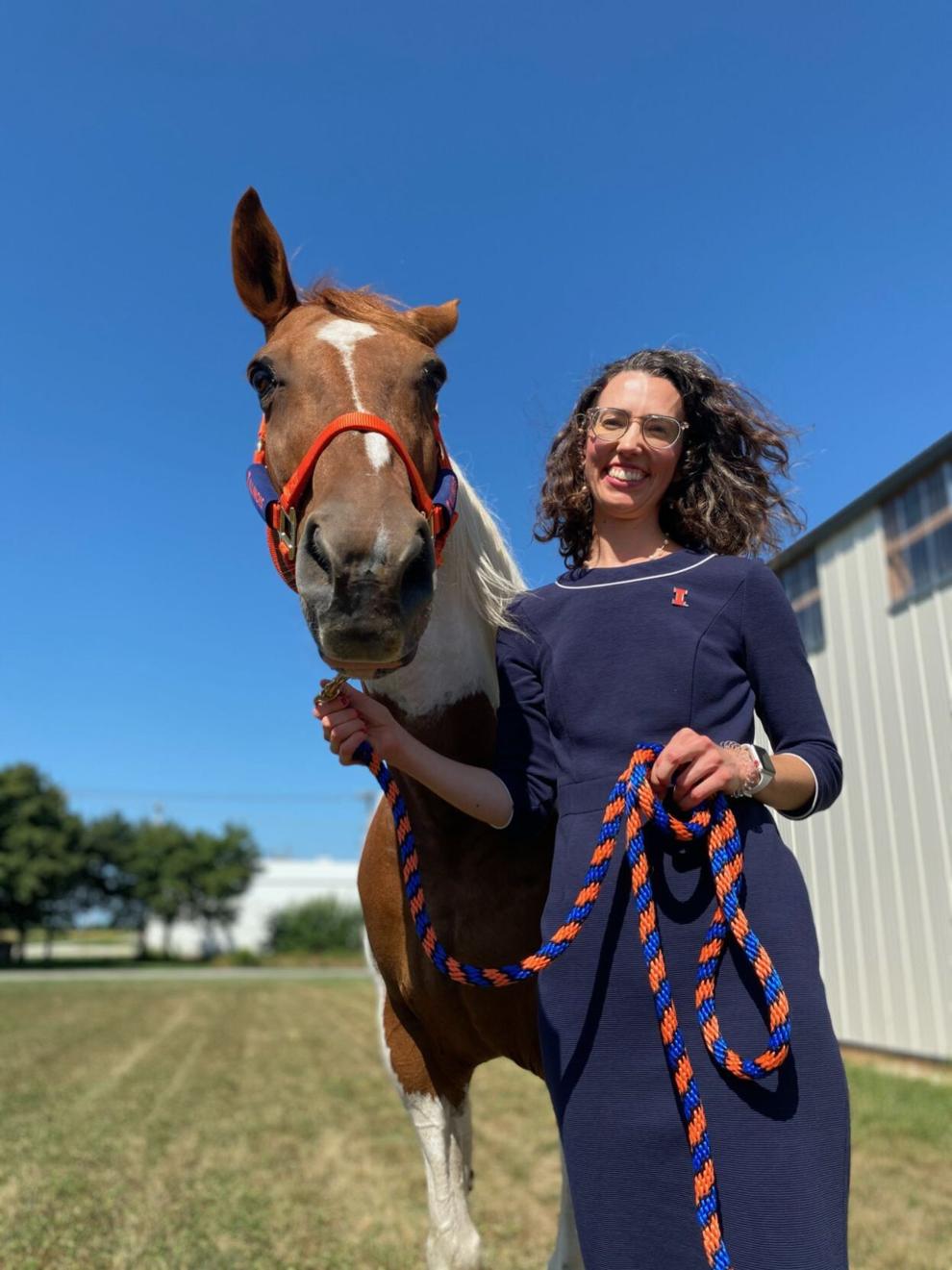 The one structure that should never be messed with, no matter how old it gets
The old glass restroom entrance doors outside the Rare Book & Manuscript Library in the Main Library.
Favorite place to think
I think best when I'm in the presence of bright minds that challenge me. Any time I'm in a room with Dr. Jim Lowe, Holly Fuson or Greg Boozell — who work in our college's i-Learning Center — I get flooded with ideas. We're all passionate about making a University of Illinois education accessible to the people who need it most around the globe. And my favorite place to think is anywhere they are.
Don't tell Professor Lowe this, but back in 2009 — when I was a third-year student sitting in his class — I walked out of his lecture. He made me so mad. He's a pig vet, and I was a vegan city slicker know-it-all vet student at the time. I didn't really like what he was talking about in his food animal medicine lecture, because I didn't think animals should be used for food.
But fast-forward a decade and now he is hands down one of the brightest minds on campus and has been an exceptional mentor to me.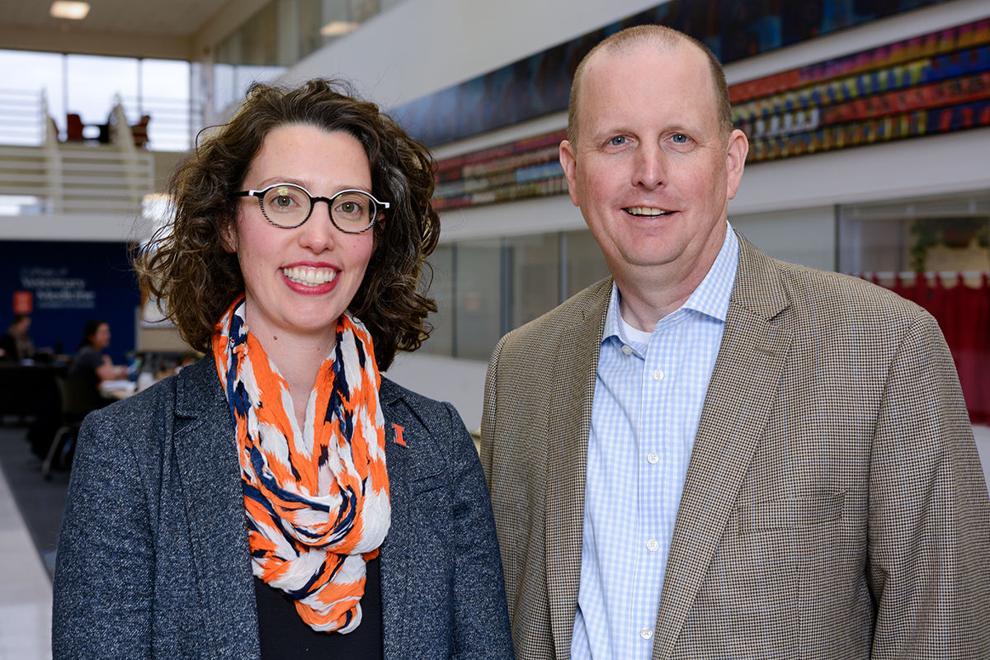 And now, thanks to him and education, I'm a bit more well-rounded and realize that feeding the world's population of 7.8 billion people is a very, very complicated topic that I was over-simplifying.
Dr. Lowe, if you read this, I'm sorry!
Favorite place for a drink or a bite to eat
Caffe Paradiso. Almond Milk Latte. I've probably ordered over 1,000 lattes there over the past 15 years.
That place powered me through countless overnight shifts, and turned bad days into good ones. There is magic in those lattes.
Favorite place without walls
I like walking past the Bronze Tablets in the Main Library. You're completely surrounded by bright minds educated by this fantastic university.
It feels really good to be a part of something so much bigger than myself.